Dating an older man could be more different with dating a young man. Older men generally wants different things for relationships then that of younger men. This is because older men are normally not looking for something permanent and serious which is what younger men want. They think of it as a game played by elder people which makes them do everything just to win the game. The fact is that age difference can affect one's romantic feelings towards a person they are dating.
This happens because when a person ages; they tend to slow down on the process of falling in love and giving care, sexual pleasure and time to those they are dating. In other words, when a woman is young she expresses all her emotions but as she gets older; it becomes hard for her to express her feelings in other to protect herself from getting hurt again after being abandoned by previous lovers. Old age thus makes it hard for a person to fall in love with someone else. But this is a general situation that depends on the person. It could be change from person to person.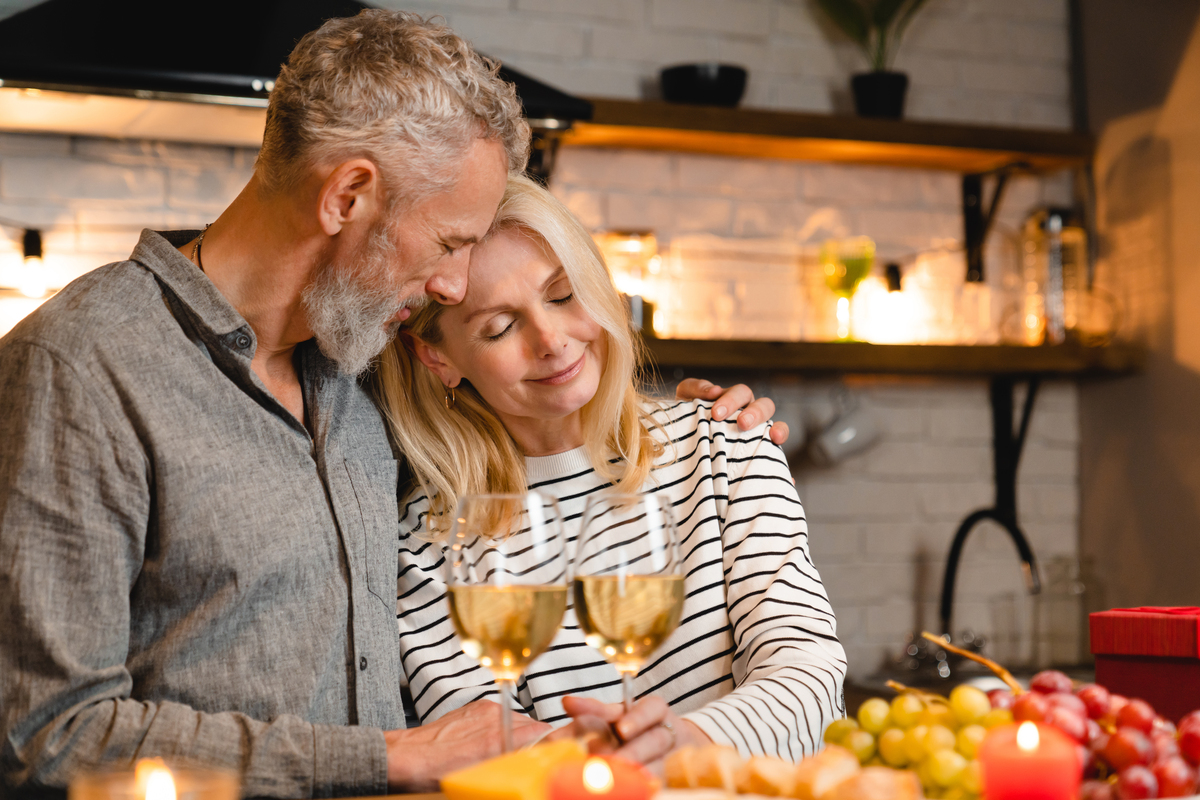 He's Experienced
You might think that dating an older man means spending quality time with someone who can show you the ropes. However, it's important to remember that just because he has more life experience doesn't mean he knows everything about relationships or how to treat a woman well. If anything, men who are closer to your age might be better suited for teaching you some things about love and life because they have more recent experiences than their older counterparts.
They Like Control
Older men are used to being in control and they can find it difficult to let go of this role when they are with a younger woman. They have many years experience with relationships and may have been married before and know what works and what doesn't. They also know what they want in a relationship and will often not compromise on this.
His Work Schedule Is Probably Different Than Yours
If you're dating an older man, you need to know his work schedule is probably different than yours. The older man might be more likely to have a set schedule, but if he works in a creative field or at a startup, his hours could be all over the place. His career might be more important to him than yours is, and he might not have time for much of a social life outside of work. If this doesn't bother you and he's still fun to be around, that's great! Just make sure it doesn't become an issue later on down the line.
He Might Have Less Energy
When you date an older man, there are a few things you need to know. He might be less energetic than you. You might want to go on a hike or take a long bike ride, but he might not have the same energy level as you do. If this is something that concerns you, talk it out before getting serious with him. He'll probably have different interests. While it's fun to share hobbies and interests, if your interests are very different, it could cause some problems down the line. For example, if he likes golfing and fishing and you like going to bars and clubs, it might be hard for both of you to compromise on where to go on a date night.
He May Have Health Issues
Men are known to have health issues later in life. This means that if you're dating an older man, he might have some serious ailments. For example, there's a high chance that he'll develop heart problems or diabetes. It's important that you know what to look out for and how to handle it when your partner has these illnesses.
They Want Mature Relationship
You need to know before dating an older man, they want mature relationship. Older men are different from younger men and it can be confusing for you if you haven't dated them before. They are more mature than their age and they want a mature relationship with a woman who knows how to treat them right. They don't want to waste their time with someone who is immature and annoying. They have a lot of experience in life and they know what they want out of it. You need to be prepared for this or else you will lose him fast!
They Are Not As Emotional As You Think
They don't go after every girl with the same passion. They may already have a partner or plan to get married in future. So they don't need to be in a relationship just for fun. They have their own life and they know what they want from it. So they will not chase after you like crazy just because they like you.
There Might Be An Ex-wife Or Children In His Life
You need to know before dating an older man, there might be an ex-wife or children in his life. He may have been married for decades and has a grown child or two. When you are dating an older man, there is a chance he might have children in his life. If you are not prepared for this, it could cause problems down the road. There is nothing wrong with having children in your partner's life, but it can make things more complicated than they need to be if you are not prepared for this situation.
He Knows What He Wants And He Won't Waste Your Time If You're Not It
Older men have had their fair share of relationships and know exactly what they want in a woman. They won't waste your time if you don't fit the bill. This can be both good and bad because these guys don't beat around the bush and will tell you directly if they are not interested in dating you anymore. If he is into you, then there is no doubt about it because he will show it by taking the time out of his busy schedule just to see you or sending flowers and gifts just because he feels like it. He will also make sure that you feel special all the time by doing little things like remembering your birthday or calling just because he misses talking to you over the phone.
He's Probably Not Keen On Kids
Older men tend to be less interested in having children than younger men. They've already raised children and may not want to do it again. They also tend to have more experience with women and relationships, so they may be more set in their ways and less likely to compromise or change their minds about something if they don't like it.
They Are Generous
Older men generally have more money than younger men, which means they can give you more things when you're together. If you're looking for a guy who will take care of you financially, then dating an older man will make sense for you.
He'll Likely Know How To Communicate His Feelings Better Than A Younger Man
Older men have had more time and experience in life to learn how to communicate their feelings effectively with their partners. If you're looking for a partner who will tell you what he thinks without being afraid of hurting your feelings, then an older man might be the perfect match for you!
You're Going To Hear Stories About "The Old Days."
You need to know before dating an older man, you're going to hear stories about "the old days." If you're not interested in hearing about how things were decades ago or what people used to do, it might be better to date someone closer to your own age.
Relationships with older men come with some baggage. If you're looking for someone who's free and clear of all ties, an older man might not be a good match for you. Most people who are over 50 have been married at least once and may have children, grandchildren and other dependents that affect their lives on a daily basis.
There Might Be Cultural Differences Between You
For those of you who are dating an older man, you need to know that there might be cultural differences between you. He may have different values and beliefs than you do. For example, some older men grew up in a time when women were not equal to men. They may still have sexist beliefs or they may think women's roles are limited to being wives and mothers.
If you want to date an older man, make sure he is respectful towards women and doesn't believe that they should stay at home while their husbands go out and earn a living. If he does have these beliefs, it's not necessarily his fault because it was what society expected of him when he was growing up. However, if he still believes that way today, then it could be problematic for your relationship in the future.
There Could Be Differences About Sex Drive
If sex is important in your relationship, then it's important that both partners are on the same page when it comes to how often they want to have sex. Sex drive can vary from person to person and even change over time — especially as we age. If your partner has a lower sex drive than you do, he may not want to have sex as much as you do (which isn't necessarily a bad thing). However, if his desire for sex is less than yours but he still wants to maintain an active love life, then there might be issues down the road if things don't change or get better over time (which they rarely do).
That's all for now from the "15 Things to Know Before Dating an Older Man" content prepared by Victoria Milan for you! If you are looking for more content like this, you can visit our blog and stay tuned.
Also, Victoria Milan is the best dating site that you can find someone. With millions of users, modern design, and unique features, Victoria Milan offers you the best user experience. %100 anonymous and you can see online users on the homepage and start a quick chat. Or you can easily find the perfect partner with filtering options. In addition, registration at Victoria Milan is free. Find a partner easily and quickly with Victoria Milan. Just click to register to Victoria Milan.
FAQ About Dating An Older Man
How Should I Act When Dating An Older Man?
When you are dating an older man, there are some things that you need to keep in mind. Here are a few tips on how to act when you are dating an older man:
Be yourself

Don't be afraid to speak your mind
Do not judge him
Respect his opinion and decisions
Never try to change him
What Does An Older Man Want In A Relationship?
Men are less emotional than women. They don't want to talk about their feelings or their pasts because they don't want anything getting in the way of having fun and enjoying life. What they do want is someone who can laugh at themselves, doesn't take themselves too seriously, and can make them feel good about themselves without being overly dependent on them.
What Is Good About Dating An Older Man?
Dating a much older man is a great idea if you're looking for a real relationship rather than just a fling. Older men are more mature and more established in their careers and lives. They have a higher level of confidence, which makes them more attractive to women. Also, their confidence will inspire you to feel more confident about yourself. Older men have more experience in dating and relationships, so they know what works and what doesn't work in relationships. It's always good to learn from other people's mistakes instead of making your own mistakes.
Can Older Man Love Younger Woman?
The answer to this question is yes, a man can love a woman much younger than him. The age difference between older man and younger woman does not matter. It is a question of the compatibility between the two people, their personalities and their goals in life. The age difference can be a non-issue if there is enough love between them. Some people have found success with intergenerational relationships, but others have failed miserably at it.
How Do You Know If An Older Man Is Attracted To You?
If you're wondering if a man is interested in you, there are some telltale signs to look out for. Here are 11 signs that an older man is attracted to you:
He looks at you more than once.

He's engaged in the conversation with you and not looking at his phone or checking his email.

If he does look away from you, it's not for too long and he makes eye contact when he comes back to you.

When he laughs at your jokes, it's not just polite laughter — it's hearty and genuine.

He asks questions about you and shows interest in what you have to say by listening carefully and responding thoughtfully or asking follow-up questions.