Best Movies About Affairs
Infidelity and affairs are a common theme for movies.
Sometimes the movies are realistic and sexy.
Sometimes they almost seem like they are designed to scare you away from having affairs and into monogamy! Either way, if you enjoy being a member at Victoria Milan, here are some movies about infidelity for your next movie marathon. More and more men and women are using websites such as Victoria Milan to try their hand at online dating. If you're looking to find sexy and discreet affairs, these alternatives to romantic dating sites are gaining popularity, and it's no question why.
Live out your cinematic fantasies with your lover as you watch your favorite celebrity crush seek out the passion they've been missing.
Unfaithful
Unfaithful stars Diane Lane, Richard Gere, and Olivier Martinez, depicting Gere and Lane as a seemingly typical suburban married couple. Despite being married, Lane unexpectedly meets sexy stranger and book dealer Martinez. Unlike her passionless husband, Martinez treats Lane as the sexual being she is and a steamy affair ensues. The film features incredibly hot sex scenes and is a great view on this basis alone.
Matchpoint
In the 2005 Woody Allen romantic thriller, actor Jonathan Rhys Meyers plays an English tennis instructor who falls for his brother in law's girlfriend, an incredibly sultry blonde bombshell played by sex-pot Scarlett Johansson. What follows is a crazy, hot and whirlwind affair that eventually falls apart in classic Woody Allen style.
Y Tu Mamá También
This spicy and sensual Mexican flick follows two friends played by young men Diego Luna and Gael García Bernal. The two embark on a road trip through rural Mexico with Bernal's cousin's wife, a gorgeous woman named Luisa. Despite being slightly older, the experienced temptress individually seduces each of them. And then together. Don't be intimidated by the subtitles, this is one sultry journey that is well worth the added efforts.
Damage.
The early 90s film Damage stars Jeremy Irons as a British cabinet minister in parliament who has a sexual affair with a sexy French woman (Juliette Binoche) who already happens to be engaged to his son. This tale of sexual obsession features a ton of sex scenes between Irons and Binoche.
Chloe
If you're in the mood for a twisted tale involving some girl-on-girl action, look no further than Chloe. Julianne Moore plays a convincing role as a wife beginning to assume that her husband, (Liam Neeson) is having an affair with one of his students (Amanda Seyfried). Moore's character discovers Seyfried is a call girl so she hires her in an attempt to test her husband's loyalty. It turns out that the husband had not been unfaithful, but in a undeniably crazy turn of events, Seyfried is obsessed with Moore and the two wind up sleeping together. The sexual chemistry between the leading ladies will keep you coming back for more.
Closer
With one of the most undeniably sexy casts of all time, Closer takes a closer look at how messy things can get when the lines between two couples start to blur. Jude Law, Clive Owens, Julia Roberts, and Natalie Portman show us a raw glimpse at their passionate love affair with mixed emotions, but there is nothing debatable about how sexy it made us feel!
The Graduate
In a film that was a first of its kind, Dustin Hoffman, Anne Bancroft, and Katharine Ross give us a performance that has stood the test of time and is still turning us on. Hoffman, a naive college graduate finds himself hooking up with his father's business partner, Mrs. Robinson, played by Bancroft, the original MILF. Little did he know, he would be in for a tricky situation with the siren after finding himself smitten with her daughter(Ross), the one woman he wasn't supposed to fall for.
Come Undone (Cosa Voglio Di Più)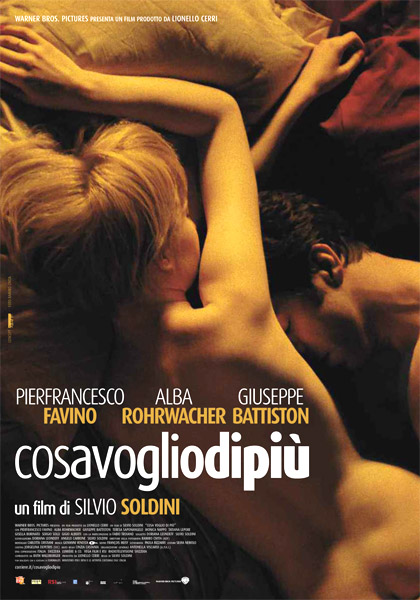 A fetching young woman(Alba Rohrwacher) happens to meet a handsome father of three(Pierfrancesco Favino), who has been unhappily existing in his stale marriage for some time. Even upon their first encounter, the chemistry between them is overwhelming and a passionate sex affair ensues. Indecent Proposal.
Sometimes cheating isn't so easy, as Demi Moore and Robert Redford bring a cuckold affair to the big screen. Redford's wealthy character propositions Moore's young and very much in love husband (Woody Harrelson) to share his wife with him for just one night in exchange for one million dollars cash. The couple's reluctant attempt to escape financial hardship may take an even greater toll on their marriage.
Brokeback Mountain
In the film that broke Hollywood, Heath Ledger and Jake Gyllenhaal are cowboys who have been hired with the task of herding their sheep across Wyoming. When they leave the cover of their sedimentary lives, they reluctantly discover feelings for one another, which they must hide to avoid losing everything, including their lives. The only thing that tops the intensity, passion and romance between the two when they are together, is the heartbreak we feel for them when they are apart from one another.
At Victoria Milan we do our best to provide you and your partner fun and exciting new ways to enjoy your affair. We hope these movies awaken your inner thespian and help to inspire you and your partner to have some sexy fun of your own. Start searching for your very own personal affairs on Victoria Milan and make your fantasies come true.