We all know how well known KIK's app is. It became one of the most popular messaging apps and enjoyed a lot of downloads in a very short time. However, you have to take into consideration that it's developed by an unknown company which means there are so many chances of getting your account hacked or spammed by some third party apps. So, if you're having trouble with your account being hacked or spammed, if you want to permanently delete your account to protect your online identity from scammers, we'll explain how to do that in today's article.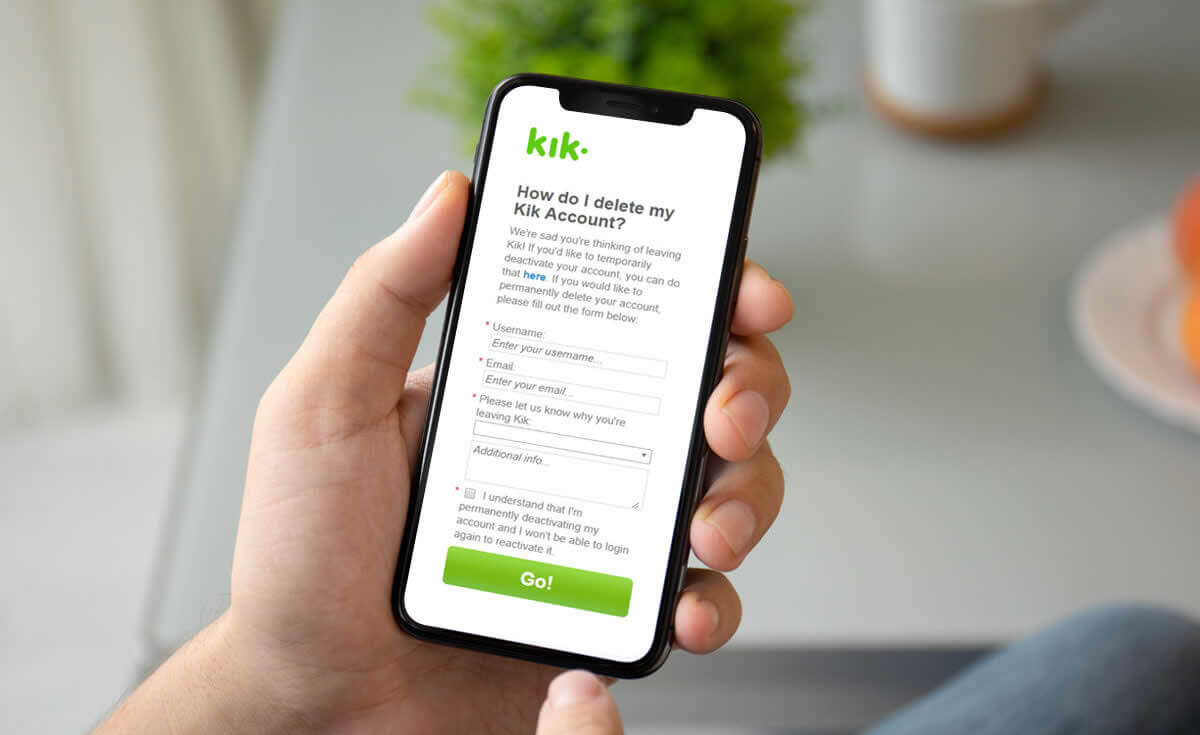 What Is Kik?

Kik is a free instant messaging mobile app from the Canadian company Kik Interactive, available on iOS and Android operating systems. Kik Messenger, commonly called simply Kik, is a freeware instant messaging mobile app from the Canadian company Kik Interactive, available free of charge on iOS and Android operating systems.
Kik Messenger was released in October 2010. By February 2016, Kik Messenger had approximately 240 million registered users and was used by approximately 40% of United States teenagers. In March 2016, Kik added a bot store to its app, which allows users to order food or products through an automated chat. As of 2018, over 300 million people have registered with Kik.
Kik has been criticized for providing inadequate parental control over minors' use of the app. The application's developers have said that as of April 2016 they were "working to provide better parental controls" such as the ability to delete conversations, but they had not yet provided age verification options. The app has been criticized as unsafe for minors due to its anonymity features and allegedly weak parental control mechanisms.
Kik is a cross-platform mobile application used for instant messaging. With Kik messenger, you can send and receive an unlimited number of messages to anyone else who has a Kik account.
Kik is known for its features preserving users' anonymity, such as allowing users to register without providing a telephone number.
Why You Should Delete Your Kik Account?

Kik is a mobile messaging app that allows users to send and receive messages from their friends and family members. However, it has recently been the target of spamming and child exploitation activities. In this article, we'll discuss why you need to delete your Kik account now.
The first reason why you should delete your Kik account is because it has recently been the target of spamming activities by bot accounts. These bots are programmed to send messages on behalf of real people in an attempt to get them to follow links or buy products.
The second reason why you should delete your Kik account is because the company behind the app is under investigation by the Federal Trade Commission (FTC) for allegedly violating its anti-spam laws. The FTC has claimed that Kik's practices violate federal law, which could lead to legal action against them as well as hefty fines for any violations found during this investigation.
The third reason why you should delete your Kik account is because of recent reports that it has been hacked by someone or some group of hackers who were able to gain access through an exploit in their encryption methods used to protect users' privacy. This attack allowed hackers access to all conversations made through the service which included personal information such as text messages sent between individuals with whom they were connected.
How to Delete Kik Account Permanently?

1- Go to this page. Include your credentials and reason for leaving. Then check the box below.
2- Go!
3- Open the email sent by Kik.
4- Tap on the "Permanently Disable" button and follow the instructions.
Your account will now be permanently deleted and you will not receive notifications. Also, other users will no longer be able to see your profile, username and personal information. In addition, you will not be able to reactivate your account. Therefore, you will need to create a new profile when you want to access it again. All the steps are the same for both Android and IOS operating systems.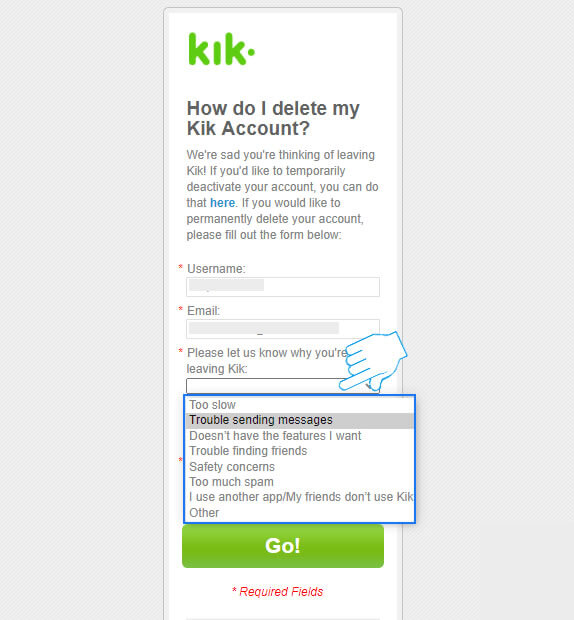 How to Disable Kik Account?
Deactivating a Kik account is easier than deleting it. Also, when you deactivate your account, you will not receive email and notification. Users cannot view your profile and cannot send messages. To activate it again, you just need to log in. Here are the steps you need to do.
1- First go to this page
2- Enter your e-mail address.
3- Click on the link in your mailbox.
4- Confirm on the redirected page.
Your Kik account is now temporarily disabled.
How to Delete Kik Account Without Email Address?
Kik allows its users to delete their accounts without any requirement of an email address or login details. However, if you do have access to the email address and password though, I suggest that you should go through it because it's simple and more efficient that way.
If you don't have access to your login details or if you don't remember them, then there is still a way out of this situation. You can contact Kik customer service for this. After verifying your user and credentials, your Kik profile will be deleted by customer service. In this way, you can delete your account without using your e-mail address.
That's all for now from our "How to Delete Kik Account Permanently" content prepared by Victoria Milan for you! If you are looking for more content like this, you can visit Victoria Milan's blog and stay tuned.
Also Victoria Milan is the best casual dating app. With its millions of users and unique features, it allows you to easily find a partner. You can see online users on the homepage, filter users and use Victoria Milan with a verified profile. Also, registration at Victoria Milan is free. Find a partner easily and quickly with Victoria Milan. Click here to register with Victoria Milan.
Is Kik Safe?
The new video chat feature in Kik may put teens at risk of being contacted by predators, as well as introduce them to provocative and adult content.
While the company has a history of working with law enforcement and taking action against inappropriate uses of the app, it's still up to parents to be aware of what their children are doing online.
Inappropriate Content
Kik is an app that lets users send and receive messages, photos and videos over Wi-Fi or a data plan. The app also lets users view YouTube videos without leaving the app.
The app makes it easy for kids to find other people in their area to chat with, but there's little protection against inappropriate content or contact with older users.
Teens also have access to pornography through the app, as well as content that's intended for mature audiences only. According to the Kik blog, there are more than 1 billion public chats on the service each month.
Predators
The new video chat feature means that kids can talk face-to-face with strangers, which can be dangerous if they're chatting with someone they don't know. Predators have been known to use apps like Kik to contact kids and solicit inappropriate images from them.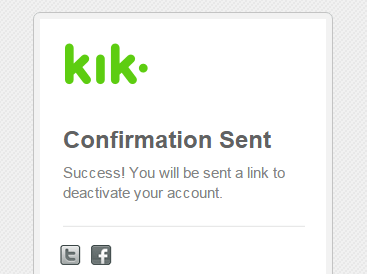 FAQ About Delete Kik Account
How Do I Permanently Delete My Kik Account?

1- First go to this page
2- Enter your e-mail address.
3- Click on the link in your mailbox.
4- Confirm on the redirected page.
Your Kik account is now temporarily disabled.
How Long Does It Take To Disable Kik?

It takes about 1 or 2 days to delete a Kik account. It's not that they don't want your business — it's because of the political process.
Kik is made with a lot of features, and one of them is to allow people from age 13 and up to use Kik. This has been a controversial topic for many years, but this is also one reason why you have to wait for 1 or 2 days before you can delete your account.
So when you send a request to delete your account, it doesn't happen right away because Kik needs to follow the political process so they can verify if you are really old enough to disable your account.